Now available in paperback.
"A savvy, engaging tale in which the technology and tradecraft are as interesting as the characters." —Wall Street Journal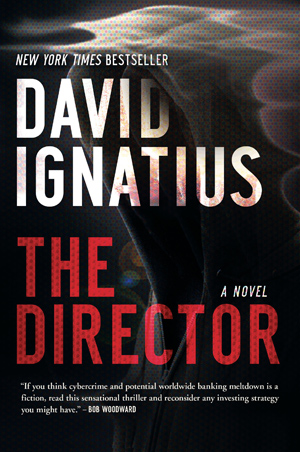 Graham Weber has been the director of the CIA for less than a week when a Swiss kid in a dirty T-shirt walks into the American consulate in Hamburg and says the agency has been hacked, and he has a list of agents' names to prove it. This is the moment a CIA director most dreads. Like the new world of cyber-espionage from which it's drawn, The Director is a maze of double dealing, about a world where everything is written in zeroes and ones—and nothing can be trusted.
Reviews
"Few understand the CIA and espionage culture as well as Ignatius. If you think cybercrime and potential worldwide banking meltdown is a fiction, read this sensational thriller and reconsider any investing strategy you might have." —Bob Woodward, Politico
"Another brilliant thriller from the Dean of International Intrigue. Deception, deceit, and dishonor—The Director doesn't let up and absolutely doesn't disappoint! I loved this book!" —Brad Thor, #1 New York Times best-selling author of Hidden Order
"The best part of The Director is watching Ignatius grab the history of American intelligence and use it to divine our technological future. Here's your chance to see inside the CIA. Sculpted with an insider's eye, The Director shows you real people, real espionage, and the real threats to our national security." —Brad Meltzer, best-selling author of The Fifth Assassin
"Mr. Ignatius…injects the plot with his wide-ranging knowledge of history, geopolitics and national security issues, while giving the reader an intimate sense of the tradecraft employed by his characters." —Michiko Kakutani, New York Times
"Ignatius has given readers another compelling and enlightening look at what might happen next month. Must-read twenty-first-century espionage." —Booklist, starred review
"[A] frighteningly convincing spy thriller…Ignatius builds palpable momentum and creates engaging, fully human characters, notably the fallible and conscientious Weber. Moreover, he writes with great authority on hackers' technologies and motivations, as well as the history and culture of the CIA." —Publishers Weekly, starred review
"As a writer, Ignatius doesn't know how to tell a bad story. His unparalleled understanding of the intelligence world propels his work so far above others who dabble in the field that there's little comparison." —Kirkus Reviews
"I strongly suggest you read The Director. It makes Tom Clancy look like an episode of Get Smart." —Philip Kerr, Washington Post
Interviews
NPR's Morning Edition: The Director Offers a Glimpse into the Digital Underground.
NPR's The Diane Rehm Show: David Ignatius Joins Diane to Talk Leaks and Cyber Espionage—Both Real and Imagined.
Fox News Radio: Spanning the Globe with David Ignatius.
Film News
Sony Pictures has optioned the film rights to The Director. Scott Rudin is lined up to produce and Paul Greengrass to direct (Washington Post, Jan. 15, 2014).
Buy