In stores November 7th. Pre-order now.
From the best-selling author of The Director and Body of Lies comes a thrilling tale of global espionage, state-of-the-art technology, and unthinkable betrayal.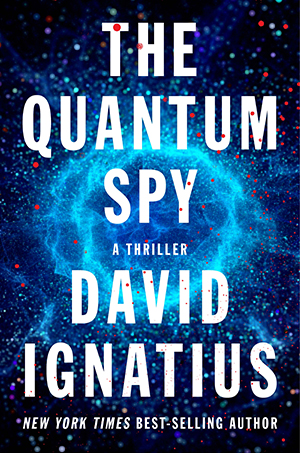 A hyper-fast quantum computer is the digital equivalent of a nuclear bomb; whoever possesses one will be able to shred any encryption and break any code in existence. The winner of the race to build the world's first quantum machine will attain global dominance for generations to come. The question is, who will cross the finish line first: the U.S. or China?
In this gripping cyber thriller, the United States' top-secret quantum research labs are compromised by a suspected Chinese informant, inciting a mole hunt of history-altering proportions. CIA officer Harris Chang leads the charge, pursuing his target from the towering cityscape of Singapore to the lush hills of the Pacific Northwest, the mountains of Mexico, and beyond. The investigation is obsessive, destructive, and—above all—uncertain. Do the leaks expose real secrets, or are they false trails meant to deceive the Chinese? The answer forces Chang to question everything he thought he knew about loyalty, morality, and the primacy of truth.
Grounded in the real-world technological arms race, The Quantum Spy presents a sophisticated game of cat and mouse cloaked in an exhilarating and visionary thriller.
Praise
"The Quantum Spy is David Ignatius at the top of his game! A truly thrilling, superbly crafted spy novel that focuses on pivotal contemporary issues—the competition to achieve quantum computing technology, the high stakes rivalry between the U.S. and China, and the conduct of spycraft in a digital age. It is certain to top the best seller charts!" — General (Ret.) David Petraeus, former Director of the CIA, commander of the Surge in Iraq, and commander of coalition forces in Afghanistan
"I've read many novels by David Ignatius and have loved them all—but The Quantum Spy takes us to a whole new level of intrigue and espionage. It's also unbelievably timely. In short: David Ignatius knows his stuff." — Wolf Blitzer
"The Quantum Spy provides a thrilling window into the future world of high-tech espionage. David Ignatius may call it a novel, but for those of us who know the work of the intelligence community, this book is nothing less than a real-life insight into the ongoing battle for dominance in the digital world. The names may be fictitious, but what they are fighting about is very real!" — Leon E. Panetta, former director of the CIA (2009–2011) and secretary of defense (2011–2013)
"A work for now and forever. A contemporary adversary: China. A contemporary problem: quantum computing. And the ageless battle of spy versus spy. Couldn't put it down." — Michael Hayden, former director of the CIA (2006–2009) and NSA (1999–2005)
Interviews
In Stores November 7th. Pre-order now.